Current Exhibition
No exhibitions are being held currently.
Upcoming Exhibition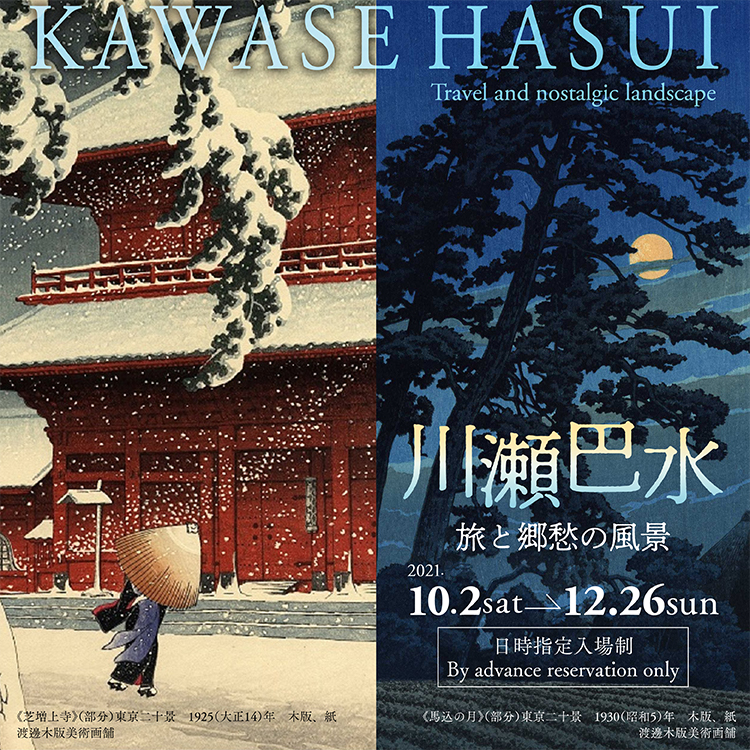 2021.10.02(Saturday)- 12.26(Sunday)
A retrospective exhibition of the woodblock print artist Hasui Kawase (1883-1957), who was active during the Taisho and Showa eras. Hasui was inspired by breezes, and spent his days travelling with the sun, clouds, and rain, painting the scenery of all four seasons of Japan. This was also a journey to seek the scenery of old times. One of the key supporters of woodblock production was Shozaburo Watanabe, a woodblock print publisher and leader of the shin-hanga (new prints) movement. Their strong desire to create something special lead them to strive for woodblock prints that could also be appreciated overseas. Hasui's landscape prints are admired for their soothing effects. This exhibition invites you to the world of Hasui, and consists of valuable works including some series that can rarely be seen together. This group of prints rich in poetic sentiment, and which makes full use of traditional woodblock printing skills, offers a moment of calm in a bustling city.