The Collection
Vincent van Gogh

Sunflowers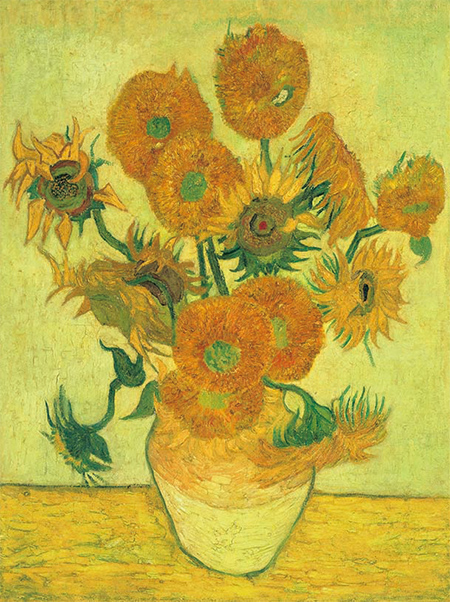 This painting is one of the most famous works by Vincent van Gogh. In February 1888, Van Gogh departed from Paris for Arles in southern France, where he planned to live and work together with fellow painters. He also invited painter Paul Gauguin, whom Van Gogh respected greatly, to join him as a leader of this community to be. This Sunflowers was painted while Van Gogh was waiting for Gauguin's arrival with the purpose of decorating his room. The Sunflowers, which is now in our collection, must have been painted between late November and early December that year, when Van Gogh and Gauguin lived together, and it was based on the first Sunflowers on Yellow Background, painted in August 1888, and now in the collection of the National Gallery in London. Though the basic color and composition of the Tokyo version is the same as that in London, the brush strokes and color tones of these two paintings are slightly different. It suggests that Van Gogh worked on this painting with specific new considerations, rather than intending to create a mere copy.
Vincent van Gogh
(1853 - 1890)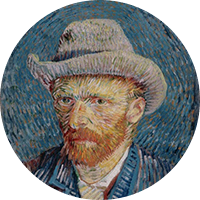 Vincent van Gogh was born a minister's son in Holland. He decided to be a painter at the age of 27, and during the 10 years until his death, he created more than 2,000 works, including drawings. He started his career by depicting the peasant life he saw in his early years, and after his period in Paris, where he was influenced by Impressionism and Neo-Impressionism, he finally established his own style, defined by dynamic brush strokes and bright colors. Van Gogh is regarded as a representative painter of Post-Impressionism, along with Paul Gauguin and Paul Cézanne, and he would have a major influence on the art of the 20th century, such as Expressionism and Fauvism.
Summarized Chronology of Vincent van Gogh
1853(year of birth)

Born March 30th in Zundert, in the southern Netherlands.

1869(age 16)

Starts work at Goupil & Cie, an art gallery in The Hague.

1873(age 20)

Transferred to London. Temporarily, transferred to Paris.

1875(age 22)

Transferred to Paris. From this period, devotes himself to the Bible.

1876(age 23)

Dismiss from Goupil & Cie and returned to the Netherlands. Works as a teacher in England.

1877(age 24)

Though he tries to become a minister, he gives up the study only one year later.

1878(age 25)

Studies at a training college for evangelists but is not accepted.

1879(age 26)

Works as a temporal evangelist in the Borinage, a mining area in southern Belgium. For his eccentric behavior, he is stopped from missionary work by the evangelistic committee.

1880(age 27)

Decides to become an artist. Enrolls at the Académie Royale des Beaux-Arts in Brussels.

1881(age 28)

At Etten, where his parents live, he does drawings. From summer into the next year, he takes lessons from Anton Mauve, a cousin by marriage and a painter, in The Hague.

1883(age 30)

Spends time in Dorenthe, in the northern part of the Netherlands, then goes back to his family home in Nuenen.

1884(age 31)

For one year until 1885, he depicts scenes of peasant life in Nuenen.

1885(age 32)

Moves to Antwerp, Belgium.

1886(age 33)

Moves to Paris, France, to live with his brother Theo in his apartment in Montmartre.

1888(age 35)

Moves to Arles in the south of France. Rents the Yellow House and plans to live with his fellow painter friends.
At the end of October, he begins living with Paul Gauguin. Two months later, on 23rd of December, Van Gogh mutilates his own left ear after an argument with Gauguin. Enters a hospital in Arles.

1889(age 36)

After spending time in and out of the hospital, he moves to an asylum in Saint-Rémy-de-Provence.

1890(age 37)

Leaves Saint-Rémy, for a few days' stay in Paris, arrives in Auvers-sur-Oise, in the suburbs of Paris.
On July 27th, he returns from a wheat field above Auvers, shot in his chest, probably by himself. On July 29th, two days later, he passes away with Theo at his side. Aged 37.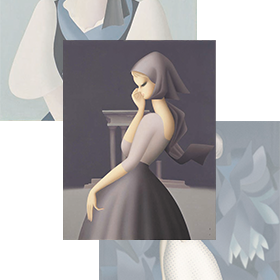 CollectionSeiji Togo
Seiji Togo was a Tokyo-based oil painter who worked with the Nika Society (a Japanese artists group). Currently the museum contains 240 pieces of his works and related materials