Information・Access
Information for visit
Hours
10:00-18:00 (Last admission by 17:30)
Days closed
Mondays※, and November 16
New Year holidays, and periodically during changes of exhibits
※open if it is a holiday
By advance reservation only The online reservation system of this exhibition will be started from mid-September.
Admission
| | Online tickets | Tickets sold on the day at the window |
| --- | --- | --- |
| Adults | 1,300yen | 1,500yen |
| University Students with ID | 1,000yen | 1,100yen |
| Under age 18 | Free | Free |
Advanced reservation at the date and time appointed is required.
Please click below buy Online tickets.
Access
By Train
By Train
5-minute walk from JR Shinjuku Station West Exit,
Marunouchi Line Shinjuku Station and Nishi-Shinjuku Station,
Oedo Line Shinjuku-nishiguchi Station
SOMPO Museum of Art
1-26-1, Nishi-shinjuku, Shinjuku-ku,
Tokyo 160-8338
Tel : 050-5541-8600(Hello Dial Service)
By Train
By car
About 3 minutes from Shinjuku Interchange
* Check the Google Map for details.
Sompo Museum of Art
1-26-1, Nishi-shinjuku, Shinjuku-ku, Tokyo 160-8338, Japan
Tel : 050-5541-8600(Hello Dial Service)
From Haneda Airport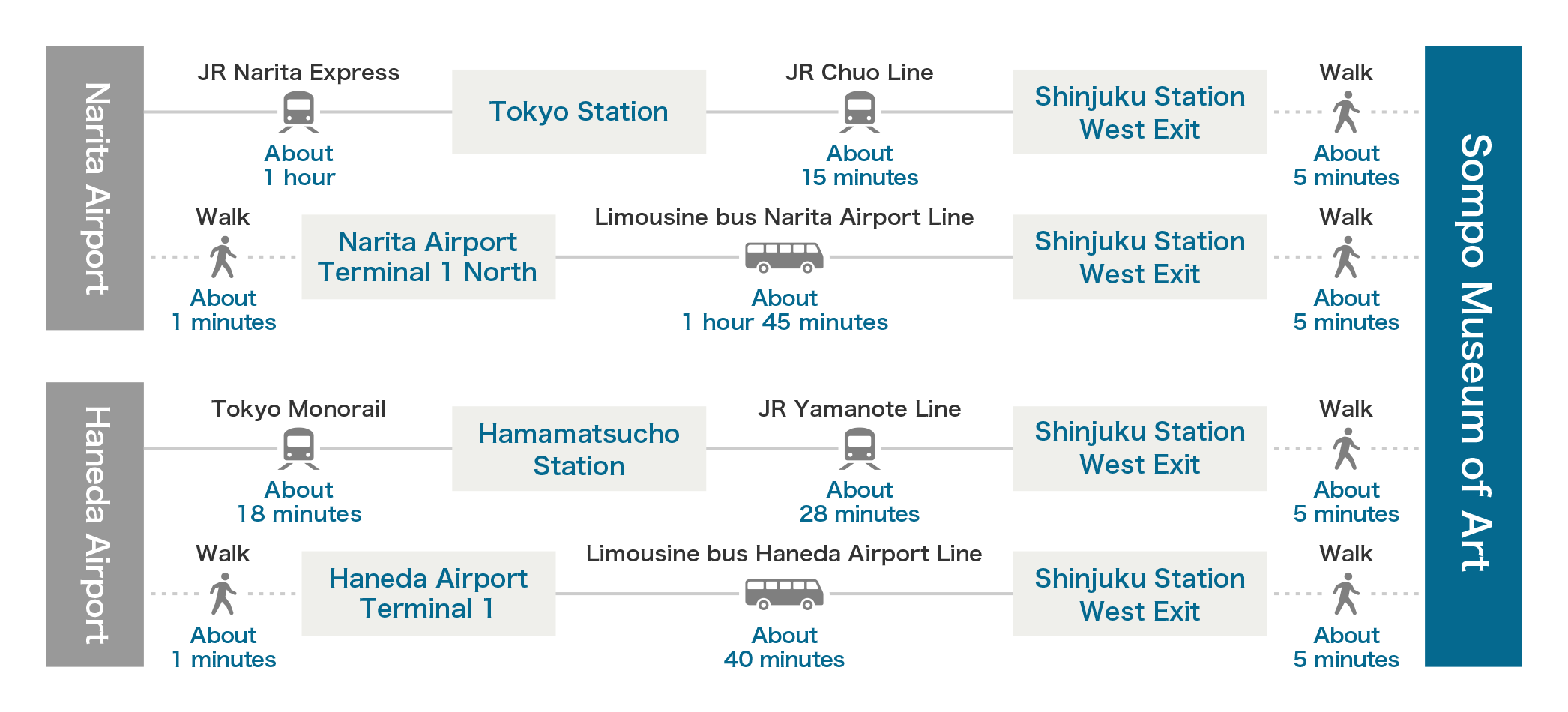 Sompo Museum of Art
1-26-1, Nishi-shinjuku, Shinjuku-ku, Tokyo 160-8338, Japan
Tel : 050-5541-8600(Hello Dial Service)
Rules of etiquette
Regarding Facilities/Equipment in this Museum
The staff are being thorough in measuring their temperatures and disinfecting their hands, and are wearing gloves,masks and other equipment.
The inside of the museum is being appropriately ventilated.
We may control the number of visitors inside the galleries to avoid crowdedness of the galleries.
We are regularly conducting detailed disinfection and cleaning inside of the museum such as handrails, doorknobs andelevator buttons.
We will limit passengers riding the elevator to five people.
Certain restrictions have been placed on the routes within the museum, so please follow the directions and bulletinboards.
Request for Cooperation to Visitors from the Museum
People who are experiencing fever, cough or other cold-like symptoms, who were in close contact with someone who has tested positive for COVID-19 or who have traveled from the countries and regions abroad with immigration restrictions in the past two weeks, should please refrain from visiting the museum.
Please wear a mask.
There will be disinfectant alcohol placed near the entrances and at other locations. Please disinfect your hands.
We will measure the temperature of those visiting the museum, with a thermography device.
Any guests who display a temperature of 37.5℃ or above will not be permitted to enter the museum.
If you find your condition worsening while inside the museum, please speak to a member of staff.
Please keep your distance from the staff and other visitors while inside the museum.
Please refrain from talking and keep quiet in the exhibition galleries to prevent droplet infection.
Please leave appropriate distance between you and other people while in line at the register. We also ask you to paywith a transport IC card or credit card.
In the event that a guest or staff member is deemed to be infected, we will swiftly post a notification on the museum website. For your own confirmation, please record the date and time of your visit just in case.
Rules of etiquette
Please follow instructions from the museum staff while in the museum.
Smoking and drinking alcohol are prohibited in the museum. Intoxicated persons will not be admitted to the museum.
Please do not sell or exchange admission tickets in the museum.
Eating food purchased off or brought from outside to the premises is not permitted in the museum.
Please do not bring long umbrellas or oversized baggage into the exhibition galleries. Also, please put plastic bottles in your bag or in a storage locker.
In order to maintain the condition for the exhibits, the temperature, humidity and lighting are set appropriately.
No food or drink is allowed on the exhibition floors. Please also refrain from chewing gum and eating candy on the exhibition floors.
Please keep your cellular phone on silent mode, and refrain from talking on the phone in the exhibition galleries.
Please do not touch the exhibits, showcases and exhibition walls, and also take care that your belongings do not touch them.
Using strobes, flash, tripods and similar is prohibited. Also, please refrain from taking selfies, portrait pictures and video recording in the galleries.
If writing or sketching in the exhibition galleries, please be sure to use a pencil and refrain from using colored pencils, fountain pens, paintbrushes, ball point pens, mechanical pencils, etc.
Please be considerate of other visitors in the exhibition galleries.