Collection
Seiji Togo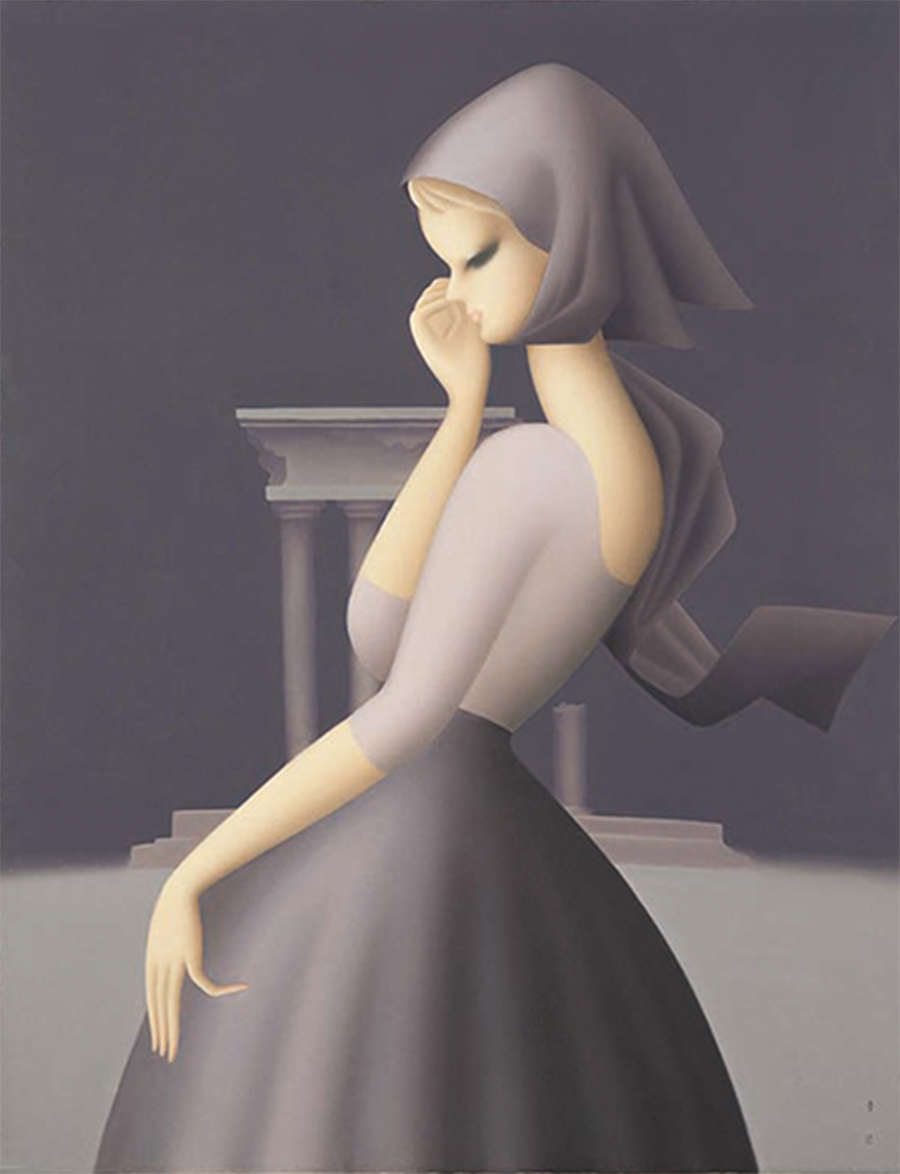 Nostalgia
Here, we see a woman standing motionlessly in front of the remains of what appears to be an Ancient Greek temple. At the 5th Japan International Art Exhibition, it received the "Audience award" in which the recipient is chosen by vote among visitors to the exhibition. The "prettiness" of the woman and the lyrical flow of the picture (a style which has been accorded the name of "Seiji Beauties" or "paintings of beauties in the Seiji style") have been described as "commonplace" by some. However, regardless of whether the viewer likes this style of art, this picture nevertheless remains a masterpiece of the Togo style that lingers in the memory.
The remains seen in the background of the picture were added to the repertoire of Togo from the mid-1930s, when the general public began to become more familiar with his complete body of work. The idea of "nostalgia" was one of Togo's key themes since his 20s, when he spent seven years living in France. Nostalgia itself was made public the year after Tokyo Tower was completed. No doubt the sentimental emotions expressed here by Togo found resonance in the minds of viewers who were living in the midst of this economic boom period when the Tokyo landscape was undergoing dramatic changes.
Seiji Togo
(1897 - 1978)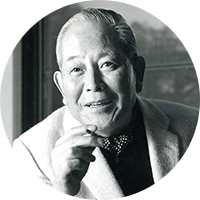 Born in Kagoshima Prefecture, Seiji Togo was a Western-style painter who was active in Tokyo as part of the Nika Society, an organization founded with the aim of promoting contemporary art in Japan. His first exhibited work, Woman with a Parasol, won the Nika Award in 1916 when he was 19 years old, and is considered the earliest avant-garde work in the world of Japanese art. During his seven-year sojourn in France from the age of 24, Togo learned from Picasso about the idea of an artist committing to his or her unique style and undertook research into traditional techniques of western painting; during the course of his work, he also learned about decorative techniques and design. Following his return to Japan, he created a new vision for the ideal modern feminine form and has left a diverse body of work including murals and illustrations.
This museum currently houses approximately 240 works by the artist and other materials connected with him ranging from his early period to the later part of his life, including around 70 oil paintings; about 150 of these were donated to the museum by Togo's family following his death in 1978.
Chronology
1897(age 0)

Born on 28 April in Kagoshima.

1910(age 16)

Enters Aoyama Gakuin Junior High School.

1915(age 21)

Works in a room at Kosaku Yamada's Tokyo Philharmonic Orchestra Akasaka Research Institute.
Holds his first solo exhibition at the Hibiya Art Museum, and meets Ikuma Arishima who becomes his mentor.

1916(age 22)

Awarded the Nika Award for his first work displayed at the 3rd Nika Exhibition.

1921(age 26)

Studies in France. Active in the Futurism movement in Milan.

1928(age 28)

Returns to Japan.
The 15th Nikaten creates a special exhibition of 23 of his European works.
Is awarded the 1st Showa Western Art Promotion Award.

1931(age 31)

Becomes a member of the Nika Society.

1938(age 39)

The Kyushitsukai is formed within the Nika Society; Togo becomes an advisor along with Tsuguharu Fujita (Léonard Foujita).

1945(age 47)

After the end of WWII, Togo volunteers to resurrect the Nika Society.

1957(age 55)

Receives the Japan Art Academy Award, and in 1960 becomes a member of the Japan Art Academy.

1961(age 59)

Becomes the Chairman of the Nika Society and promotes overseas exchanges.

1969(age 69)

Is awarded the title of "Officier d'ordre des Arts et des Lettres" by the French government.

1974(age 74)

Goes to visit the Tassili in Algeria.

1976(age 76)

Receives the Order of the Rising Sun, Second Class with Rays. Seiji Togo Art Museum opens.

1978

Dies on 25 April in Kumamoto, age 80.
Overview of Seiji Togo's artistic career
The avant-garde movement and Togo's training in France

1910s~1928

Having first attracted attention in 1915 at the age of 18 as a new member of the Futurism movement in the avant-garde style, Seiji Togo went on to receive the Nika Award the following year when his works were displayed in the 2nd Nika Exhibition. During his seven-year stay in France which started in 1921, Togo began to conduct research into historical western painting at art galleries while exchanging ideas with Picasso, through this process, he developed his own unique style of painting which combined geometrical composition with a lyrical flow.

Woman with Parasol

1916 oil on canvas 66.1×81.2cm

Modernism and wide-ranging work

1928~early 1930s

After his return to Japan, Togo was influenced by the Modernism culture which was transforming the appearance of Tokyo during its reconstruction following the Great Kanto Earthquake. He designed simple yet stylish book-bindings, illustrations, interior décor, and stage equipment, which won wide acclaim. Togo's fantastical oil paintings, put on display at Nika exhibitions, became the subject of much discussion as a part of a "new direction" along with the works of Kigen Nakagawa and Harue Koga.

Surrealistic Stroll

1929 oil on canvas 64×48.2cm

Seiji-bijin and "the Togo style"

Late 1930s~1950s

From around 1935, a major change took place in Togo's life. He began to take up the challenge of creating large-scale decorative paintings together with Tsuguharu Fujita (Léonard Foujita), a veteran artist, and requests for solo exhibitions began to come in almost every year from department stores and art dealers. As part of this development, the various motifs that Togo had learned from famous works of Western art began to be added to his repertoire, and Togo's vision of modern female beauty began to emerge.

Bird and Girl

1971 oil on canvas 91.1×66.2cm

Maturity and continued exploration

1960s~1978

From the 1960s onwards, Togo began to travel to countries all over the world almost every year for the international exchange exhibitions of the Nika Society. At the same time, Togo now began to try out new techniques involving thickly-applied paint laid on with vigorous brushwork and déformé styles resembling abstract paintings, and started to portray aspects of African, Arab, and South America societies he had visited and gathered material from during his travels abroad, incorporating these ideas as motifs in his work.

Tassili

1974 oil on canvas 226.5×181.5cm
Seiji Togo Highlights of the Collection
Pierrot

1926 oil on canvas 90.8×63.4cm

Black Gloves

1933 oil on canvas 119.2×68.2cm

Portrait of a Woman

1936 oil on canvas 73.3×53.5cm

Old Castle

1970 oil on canvas 60.6×50.2cm

Woman with Parasol

1916 oil on canvas 66.1×81.2cm

Adoration of Female Body

1972 oil on canvas 145.8×89.5cm

Surrealistic Stroll

1929 oil on canvas 64×48.2cm

Bird and Girl

1971 oil on canvas 91.1×66.2cm

Tassili

1974 oil on canvas 226.5×181.5cm

Nostalgia

1959  oil on canvas 116.1×90.7cm

Playing the Contrabass

1915 oil on canvas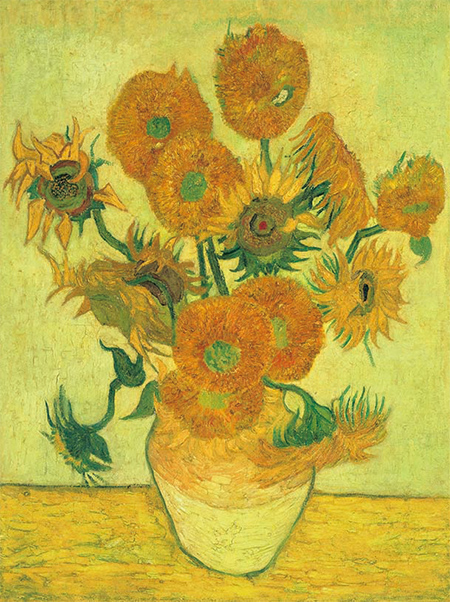 CollectionVincent van Gogh Sunflowers
During his time in Arles, Van Gogh painted seven versions of Sunflowers paintings all of which portray sunflowers arranged in a vase.
This tableau has been in the museum's collection since 1987, and is a permanent exhibit.